Publications
Group highlights
(For a full list of publications and patents see below or go to Google Scholar.
A chance-constrained optimization framework for wind farms to manage fleet-level availability in condition based maintenance and operations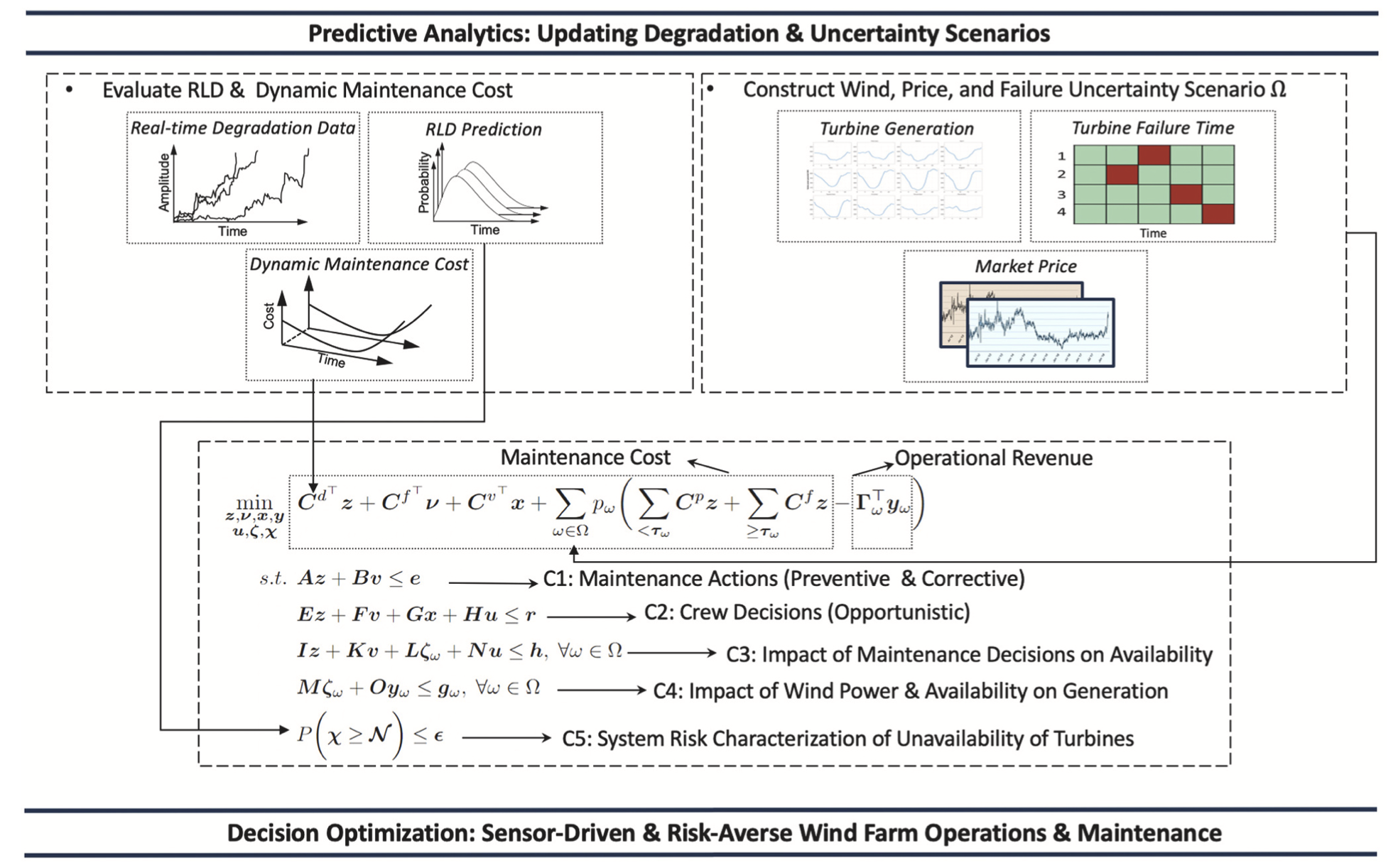 How can we harness sensor driven insights to optimize farm-level profit and offer operational availability guarantees? This paper discusses how the sensor-driven insights can be integrated into operations and maintenance models in wind farm operations to synergize risk and revenue in wind energy.
Farnaz Fallahi, Ilke Bakir, Murat Yildirim, Zhisheng Ye
Renewable and Sustainable Energy Reviews (2022)
Sensor-Driven Microgrid Generation Maintenance: Formulation and Impact on Operations & Resilience
How does condition-based maintenance impact resilience? In this paper we propose an integrated stochastic optimization model that jointly optimizes operations and maintenance in a multi-microgrid setting, and showcases the impact of condition based maintenance on profitability, reliability and resilience.
Farnaz Fallahi, Murat Yildirim, Jeremy Lin, Caisheng Wang
IEEE Transactions on Power Systems 36.6 (2021)
Large-Scale Maintenance and Unit Commitment - A Decentralized Subgradient Approach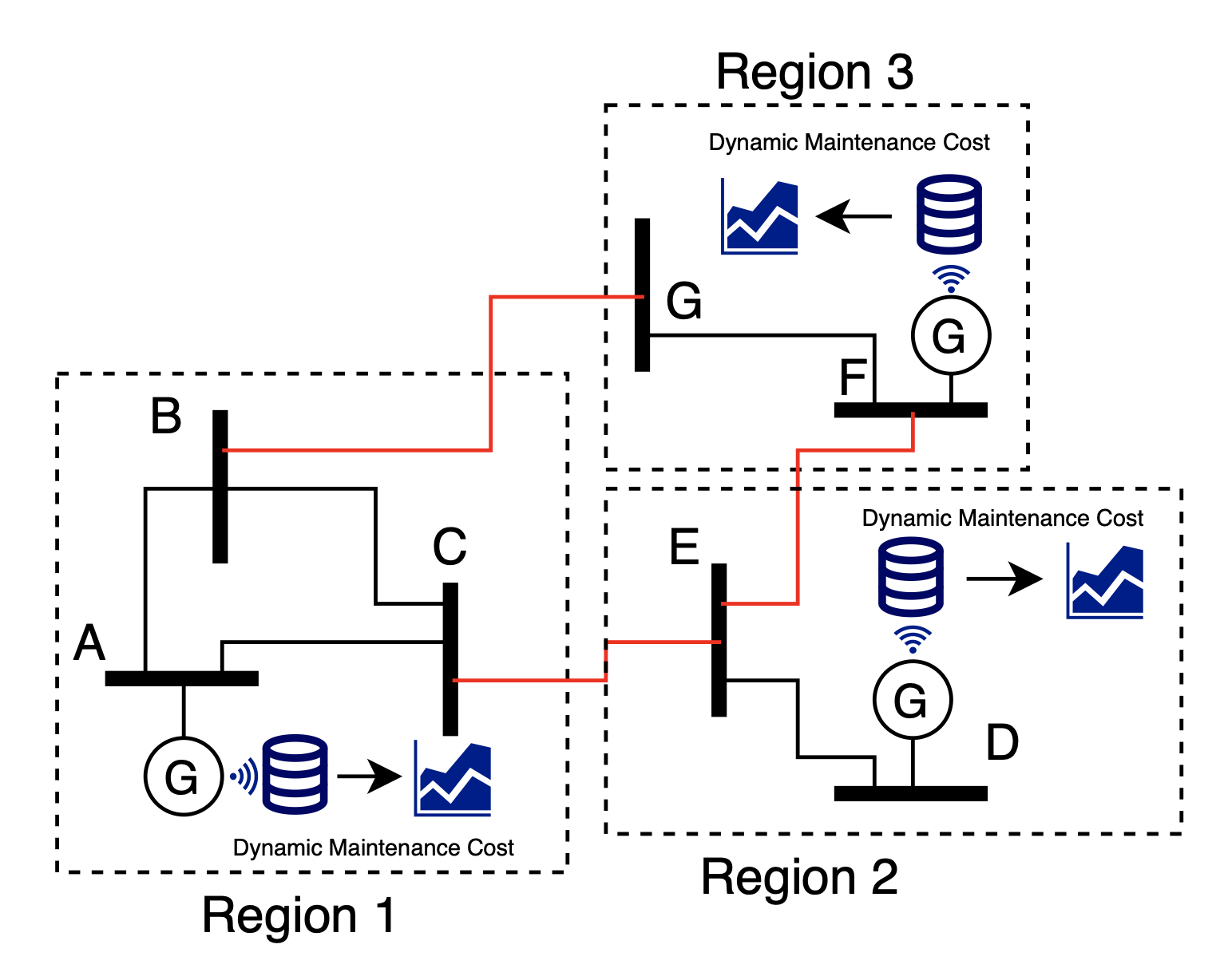 We provide a novel decentralized optimization framework for solving large-scale, joint unit commitment and condition based maintenance problems. The proposed framework enhances computational efficiency and privacy.
Paritosh Ramanan, Murat Yildirim, Nagi Gebraeel, Edmond Chow
IEEE Transactions on Power Systems 37.1 (2021)
An Integrated Optimization Framework for Multi-Component Predictive Analytics in Wind Farm Operations & Maintenance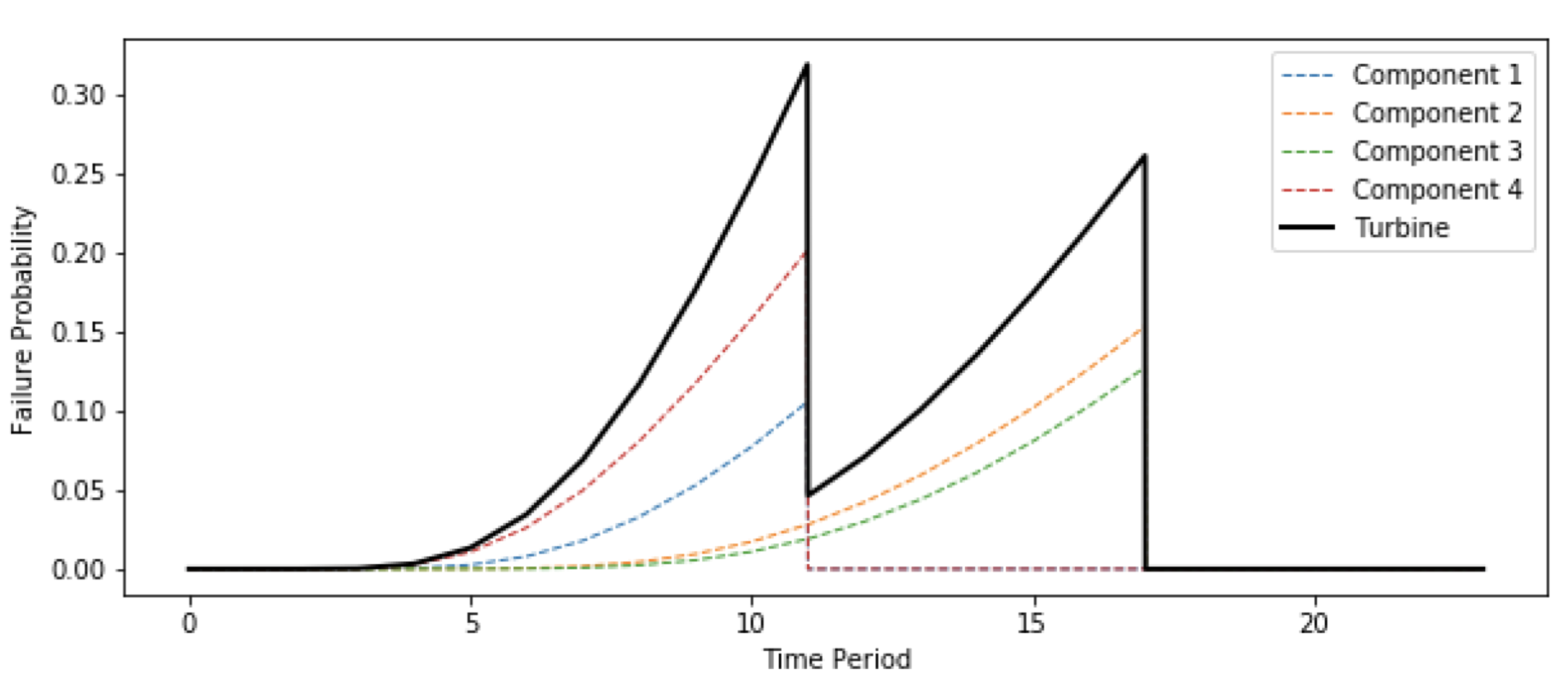 How to manage component level maintenance in large-scale wind farm operations? In this paper, an integrated framework that combines i) real-time degradation models used for predicting remaining life distribution of each component, with ii) mixed integer optimization models and solution algorithms used for identifying optimal wind farm maintenance and operations is proposed.
Ilke Bakir, Murat Yildirim, Evrim Ursavas
Renewable and Sustainable Energy Reviews 138 (2021)
Integrated Predictive Analytics & Optimization for Wind Farm Maintenance and Operations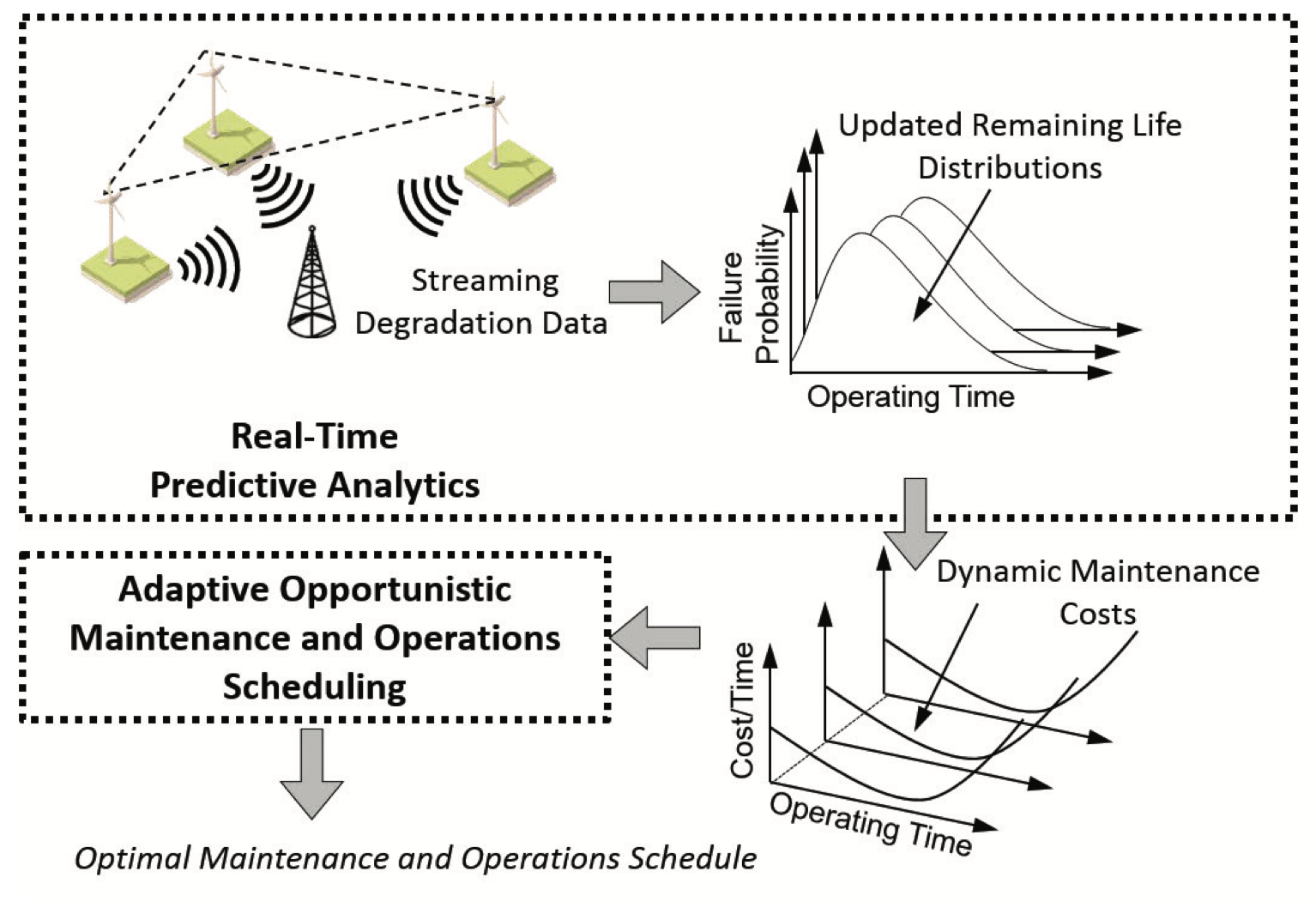 This paper proposes an integrated framework for wind farm maintenance that combines i) predictive analytics methodology that uses real-time sensor data to predict future degradation and remaining lifetime of wind turbines, with ii) a novel optimization model that transforms these predictions into profit-optimal maintenance and operational decisions for wind farms. To date, most applications of predictive analytics focus on single turbine systems. In contrast, this paper provides a seamless integration of the predictive analytics with decision making for a fleet of wind turbines.
Murat Yildirim, Nagi Gebraeel, Andy Sun
IEEE Transactions on power systems 32.6 (2017)
Patents
Rickli, J.L., Yildirim, M., Kim, E., Epple, J., Kilani, M, 2021, Factory Execution @ Speed of Thought, Provisional Patent Submitted, No. 2054691.
Full List of publications
Robust Condition Based Production Planning: Embedding Multi-Component Degradation Interactions to Synergize Operations & Failure Risks
Deniz Altinpulluk, Farnaz Fallahi, Mohammad Javad Feizollahi, Murat Yildirim
working paper, Manufacturing and Service Operations Management (2023)
to be released
Nur Banu Altinpulluk, Deniz Altinpulluk, Murat Yildirim, Feng Qiu
working paper, Nature Energy (2023)
Revisiting Sensor-Driven Asset Management Models in Energy Systems: Implications for Full and Partial Transformation in Hydro Fleets
Farnaz Fallahi, Murat Yildirim, Feng Qiu, Shijia Zhou
submitted, INFORMS Journal on Data Science (2022)
A Sensor-Driven Operations and Maintenance Planning Approach for Large-Scale Leased Manufacturing Systems
Sakir Karakaya, Murat Yildirim, Nagi Gebraeel, Tangbin Xia
submitted, International Journal of Production Economics (2022)
A chance-constrained optimization framework for wind farms to manage fleet-level availability in condition based maintenance and operations
Farnaz Fallahi, Ilke Bakir, Murat Yildirim, Zhisheng Ye
Renewable and Sustainable Energy Reviews (2022)
Differentially Private Decentralized Generator Maintenance and Operations for Power Networks
Paritosh Ramanan, Murat Yildirim, Nagi Gebraeel, Edmond Chow
IEEE Transactions on Control of Network Systems (2022)
A Stochastic Programming Model for Jointly Optimizing Maintenance and Spare Parts Inventory for IoT Applications
Jasmin Shi, Heraldo Rozas, Murat Yildirim, Nagi Gebraeel
IISE Transactions (2022)
Sensor-Driven Microgrid Generation Maintenance: Formulation and Impact on Operations & Resilience
Farnaz Fallahi, Murat Yildirim, Jeremy Lin, Caisheng Wang
IEEE Transactions on Power Systems 36.6 (2021)
Large-Scale Maintenance and Unit Commitment - A Decentralized Subgradient Approach
Paritosh Ramanan, Murat Yildirim, Nagi Gebraeel, Edmond Chow
IEEE Transactions on Power Systems 37.1 (2021)
An Integrated Optimization Framework for Multi-Component Predictive Analytics in Wind Farm Operations & Maintenance
Ilke Bakir, Murat Yildirim, Evrim Ursavas
Renewable and Sustainable Energy Reviews 138 (2021)
Process Knowledge Driven Change Point Detection for Automated Calibration of Discrete Event Simulation Models Using Machine Learning
Suleyman Yildirim, Alper E. Murat, Murat Yildirim, Suzan Arslanturk
Arxiv (2021)
Optimal Multi-Type Inspection Policy for Systems with Imperfect Online Monitoring
Liu, Xingchen, Qiuzhuang Sun, Zhi-Sheng Ye, and Murat Yildirim
Reliability Engineering & System Safety 207 (2021)
Severity-Based Diagnosis for Vehicular Electric Systems with Multiple, Interacting Fault Modes
Peters, Benjamin, Murat Yildirim, Nagi Gebraeel, and Kamran Paynabar
Reliability Engineering & System Safety 195 (2020)
Leveraging Predictive Analytics to Control and Coordinate Operations, Asset Loading and Maintenance
Murat Yildirim, Nagi Gebraeel, Andy Sun
IEEE Transactions on Power Systems 34.6 (2019)
An Asynchronous, Decentralized Solution Framework for the Large Scale Unit Commitment Problem
Paritosh Ramanan, Murat Yildirim, Nagi Gebraeel, Edmond Chow
IEEE Transactions on Power Systems 34.5 (2019)
Stochastic Optimization of Maintenance and Operations Schedules under Unexpected Failures
Beste Basciftci, Shabbir Ahmed, Nagi Gebraeel, Murat Yildirim
IEEE Transactions on Power Systems 33.6 (2018)
Integrated Predictive Analytics & Optimization for Wind Farm Maintenance and Operations
Murat Yildirim, Nagi Gebraeel, Andy Sun
IEEE Transactions on power systems 32.6 (2017)
Sensor-Driven Condition-Based Generator Maintenance Scheduling. Part 1 - Maintenance Problem
Murat Yildirim, Nagi Gebraeel, Andy Sun
IEEE Transactions on Power Systems 31.6 (2016)
Sensor-Driven Condition-Based Generator Maintenance Scheduling. Part 2 - Integrating Operations
Murat Yildirim, Nagi Gebraeel, Andy Sun
IEEE Transactions on Power Systems 31.6 (2016)